Nails Enhancement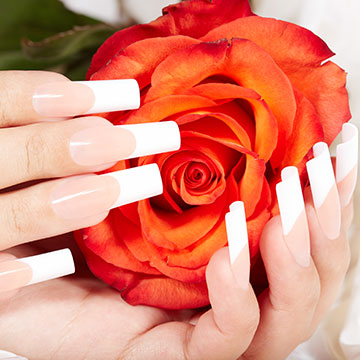 Pink & White Full Set
$50
Dipping Powder Add Tips
$45
Pedicure Shellac Color
$40
Pedicure Shellac French
$45
Shellac Change On Nails
$20
Toes Shellac Color Change
$20
Toes Shellac French Change
$25
Additional Services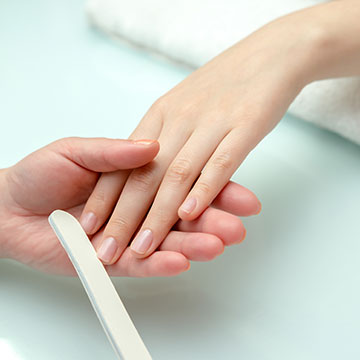 Nails Polish Change With French
$8
Toes Polish Change With French
$10
Nails Cut Down With Services
$2
Nails Cut Down Without Services
$5
Soak Off with Services
$5
Soak Off without Services
$15
Add On Massage (10 mins.)
$10
Manicures & Pedicures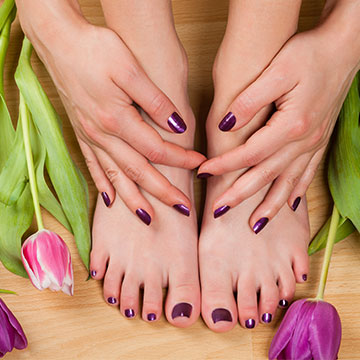 Deluxe Manicure
$25
All the benefits of a manicure plus an exfoliating sugar scrub, hand massage to remove dry and dead skin, revealing new, smooth skin. Followed by a paraffin wax treatment and hot towels then finish with polish.
Manicure Shellac Color
$30
Princess Pedicure
$15
You are never too young to be pampered! For age 8 and under included all the benefits of classic pedicure.
Express Pedicure
$20
You get to soak your feet then follow with cuticle trim with lotion rub on and finish with polish.
Classic Pedicure
$25
Feel good with your feet soak in minty or lavender sense, clean up cuticle follow with lotion massage on your legs wrap with hot towels then polish.
Paraffin dip Pedicure
$30
Make your feet feel a little pampered with hot paraffin wax for extra soft, smoothly skin and sooth arthritis pain.
Deluxe Pedicure
$35
For the ultimate indulgence, after reshape nails cuticle detail buffering to the healthy shine, salt glow exfoliation, callus remover, a cooling mask treatment with warm towels receive deep with tension massage with unique lotion.
Guava Passion Spa Pedicure
$40
Indulge and Enjoy and imagine a tropical gateway with sweet delicious guavas and passion fruits to refresh your feet with the full spa package comes with:
1) Guava Anti-Bacterial Soak.
2) Exfoliating Sugar Scrubs removes dead skin.
3) Guava Passion Luxury lotion for silky skin.
4) Moisture mask to absorbing a skin-rejuvenating wrap with hot towels and finish with polish.

Pearl Spa Pedicure
$45
Treat your self with our ultimate pearl Spa pedicure that you have never experience before. Yes! Its fresh water pearls. Not just Spa but this is believed to be good for bone development and to promote healthy, lustrous skin. Helps protect your skin from damage UV's sun rays. Please lay back and enjoy!!!
* Callus removal include with spa pedicure of $35 and up.
Add Shellac Color Any Pedicure
$15
Add Shellac French Any Pedicure
$20